The Company
The University of Chicago Medical Center (UCM), with a history dating to 1927, is a non-profit academic health system based on the University of Chicago campus in Hyde Park. Its footprint includes hospitals, outpatient clinics, and physician practices throughout Chicago and the suburbs.

UChicago Medicine is committed to impacting the health, economic mobility, and quality of life of its community—they are currently the largest employer on Chicago's South Side.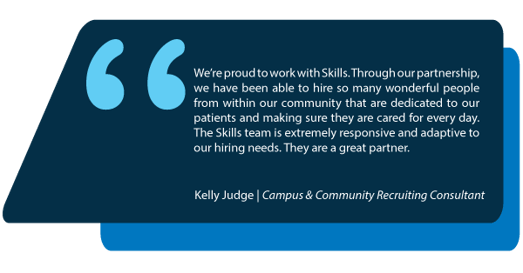 The Partnership
Since joining forces in 2014, Skills and UCM have placed 578 candidates into meaningful employment through direct hire opportunities and Career Pathway programs.
In October 2021, Skills honored UChicago Medicine with the Champion for the Unemployed Award at the 7th Annual Employment Champions Breakfast.
Success Story
Loretta, pictured above, was tired of living paycheck to paycheck as a retirement home aide.

After years of applying to jobs, never receiving a response, a work errand at UChicago Medicine led a colleague to tell her about Skills. Working with our team, Loretta joined UCM as a Patient Transport Specialist.

"It was such a blessing to get that big break. With my foot in the door, I was determined to take every opportunity to continue moving up. When I learned about UCM's Career Pathway program, I immediately jumped at the chance."

After earning her Patient Care Tech license, Loretta is now a full-time nursing support assistant. Thanks to Skills and UCM, she has the financial security to provide for her three sons: she's a first-time home-buyer and even bought her first-ever brand-new car!
Read more about Loretta's journey.
Expanding the Work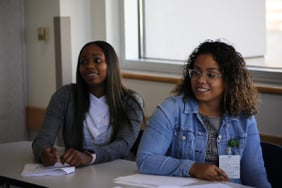 In late 2019, after years of successful direct hiring placements, both partners were interested in growing the relationship in ways that would best suit UChicago Medicine's hiring needs.

UCM named several verticals with roles were difficult to fill. We both agreed that their Nursing Support Assistant (NSA) roles offered great opportunities for a Pivot to Success career pathways program at Skills.

With the support our team, job-ready candidates are selected for a non-clinical, part-time role at UChicago Medicine while completing a Basic Nursing Aide program with 15-20 class hours per week.
How We Work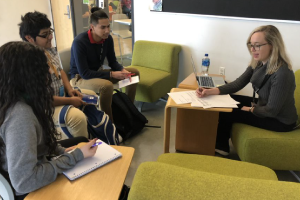 Our Pivot to Success team invites over 2,000 candidates to apply and register for an information session. There, we outline the steps candidates must take to be placed a clinical role held by UChicago Medicine for the program. Qualified candidates are interviewed for job-readiness, supported in their application to the Basic Nursing Aide program, and given interview coaching.

After Skills' 30-day screening process, UChicago Medicine selects final candidates. Within two weeks, participants are scheduled for onboarding at UCM and registered for Nursing Aide courses.

During the course, participants attend class, complete part-time work, and pursue professional development opportunities with UChicago Medicine clinical staff.

Upon completion, program participants have the opportunity to interview for a full-time Nursing Support Assistant role at UCM. Skills' support staff offers participants mentorship and educational supplies every step of the way.
Evaluating the Work
Of the 14 participants over two cohorts, 10 completed the Basic Nursing Aide course. Of those, six passed the state exam to become certified Nursing Aides. The remaining four participants are waiting for their passing grades to be sent to the state database in order to be eligible for the exam.

One participant has been hired into a full-time NSA role at UCM while our hiring partners advocate for additional candidates to be hired by Unit Directors.

After completing the BNA program, receiving a full-time position makes candidates eligible for a pay raise between $3.50-$4.50 per hour. This results in an annualized wage increase of $8,300 and a salary between $37,000-$39,000 per year.
Results
As we plan for recruiting a third Pivot to Success cohort and direct hiring candidates in 2022, explore key metrics showing UCM and Skills' commitment to inclusive hiring across our programs.

Download the case study here.