Closing the Gap with "Beyond the Diploma"
By John Julitz
January 18, 2019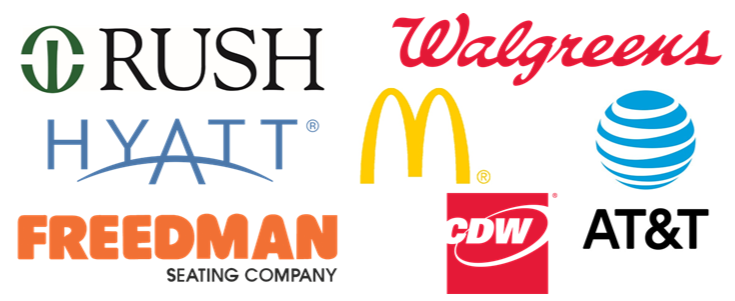 A new year usually means new beginnings and that is certainly the case at Skills for Chicagoland's Future. 2019 is bringing with it even more opportunities for young adult job seekers to get employed and take their careers to the next level. AT&T and Hyatt are the most recent companies to join the growing slate of businesses hiring 18-26 year olds into career pathway programs through Skills. Each program and pathway features slightly different elements, but the core tenets remain the same: giving the unemployed/underemployed young adults in Chicago the chance to change their story and embark on new, long-term careers with some of the world's largest companies.
A stable long-term job paired with an opportunity to grow professionally through attending college or gaining a certification and support services make all Beyond the Diploma opportunities more than just a job. These are potentially life-changing programs.
To date, dozens of individuals have begun working at Walgreens, Rush University Medical Center, Freedman Seating, CDW, and McDonald's. Now it is your turn. If you are ready to take the first step toward a job with a clear pathway to success, this is the opportunity you have been looking for. (Click here to learn more and apply)
But what kind of impact is "Beyond the Diploma" having on program participants?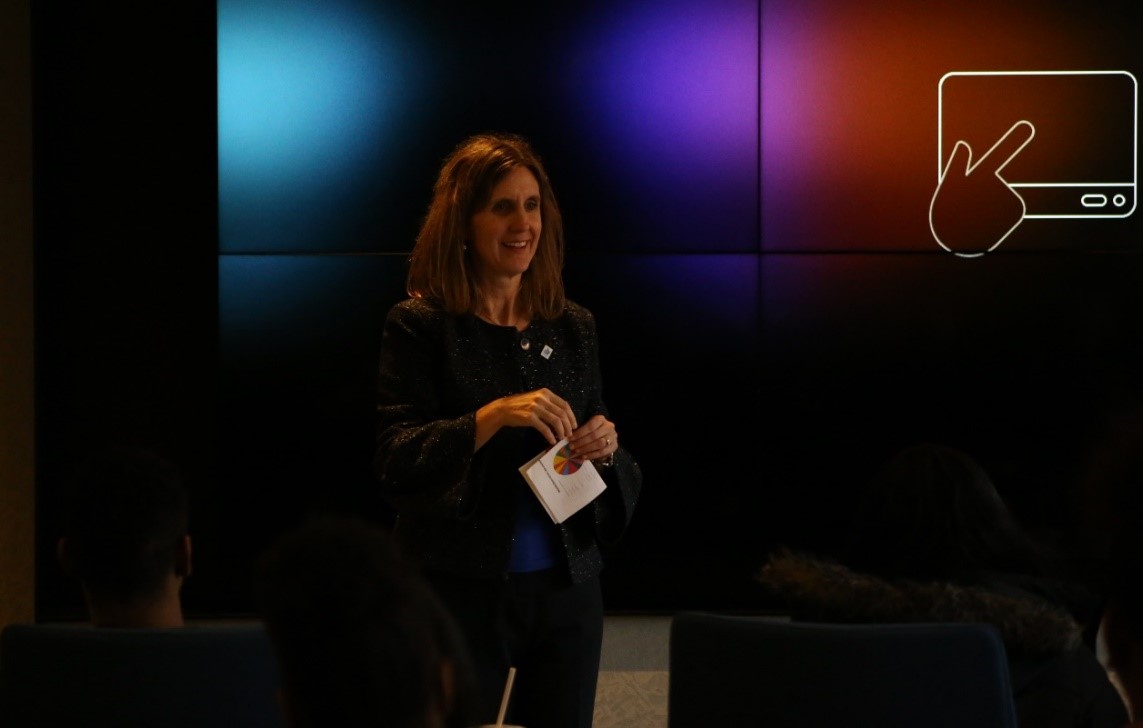 Skills for Chicagoland's Future President and CEO Marie Trzupek Lynch speaks to the inaugural class of the McDonald's Beyond the Diploma cohort
IT JUST CAME AT THE RIGHT TIME. THIS WAS JUST PERFECT.
"I didn't think I'd get another chance."
Jessica Tafolla wanted a career in healthcare. But at the age of 26, with two young kids at home, and unemployed for 11 months, she thought the chance to have a career was not to be.
"I had looked into Basic Nursing Assistant (BNA) programs, but I didn't qualify for financial aid and as a family, we couldn't afford it on our own," Jessica recalls. "But one day I saw Skills for Chicagoland's Future's ad for the Rush program on Facebook and it just came at the right time. This was just perfect."
Though Jessica felt some hope that the partnership between Skills and Rush was exactly what she needed, she did not apply for the program right away. Instead, it was a push from her husband that spurred the action.
"I didn't apply because I didn't think they'd take me because of my age and because I have kids," said Jessica. "My husband encouraged me to apply. He pushed me to apply. He wants me to have a career and to better the lives of our children. My husband is the biggest supporter I have."
Now that Jessica's healthcare career is off and running, she's looking to the future and thinking beyond her current situation.
"I want to become an RN and Rush will help me achieve that dream," Jessica said. "This is a once in a lifetime opportunity and I want to take full advantage of it."
Have you dreamt of a career in healthcare, but thought it was out of reach? Jessica's story is her own, but you have a chance to re-write your future. If you've thought the career of your dreams was unattainable, give "Beyond the Diploma" a look. You'll find a team dedicated to your success. If you're willing to put in the work, then the Skills team is able to help you achieve your dreams. The next cohort of the Rush program is now accepting applications. If you are between 18-26 years of age and have a high school diploma or GED, then apply for the RUSH Medical Center – Patient Care Technician Pathway Program here.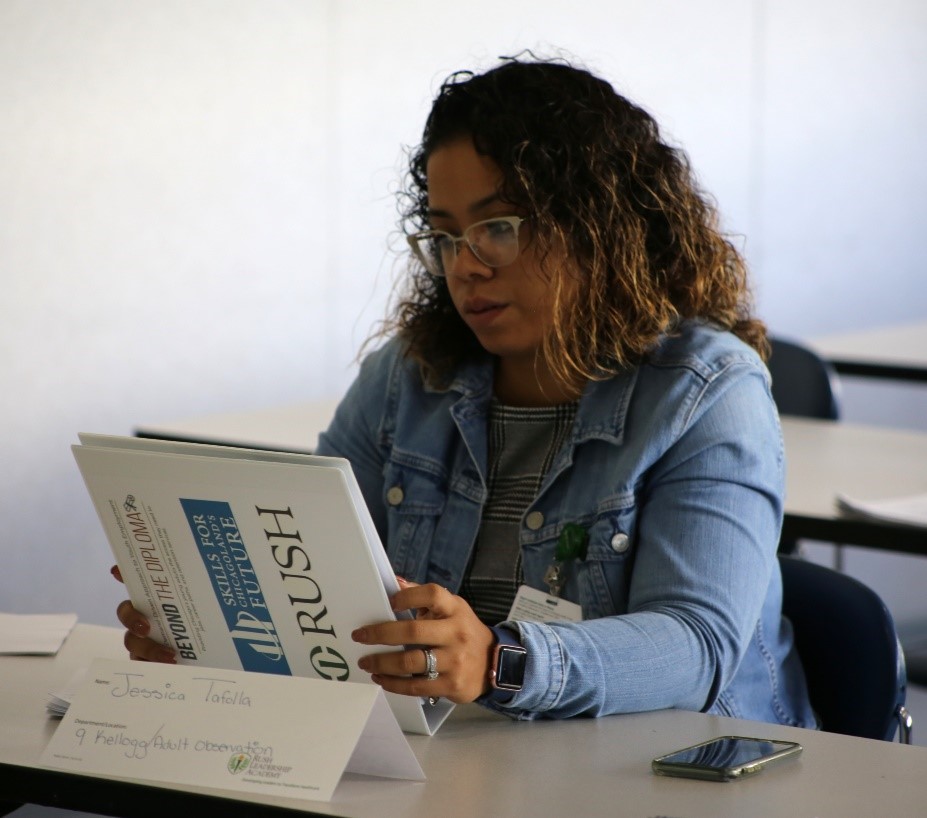 MY FAMILY WILL BE BETTER OFF
Think of your life over the last year. You probably recall good moments like that vacation you took. Or that present you got for Christmas. Or some other memory that brings a smile to your face. The good times.
But imagine for a moment what emotions those memories would evoke if the last year of your life included saying goodbye to your father because he was murdered. Or that your grandparents lost their home in a fire that rendered them homeless until they moved in with your family. Or that you now have to take public transit exclusively because another driver ran a red light and totaled your car. But changing jobs or quitting school weren't viable options because your family is depending on you to support them. Or that you are now helping raise your 18-month-old baby sister who will never know her father thanks to gun violence that plagues the South and West sides of Chicago.
And imagine doing it all while you're still a teenager.
That is what the last year has looked like for 19-year-old Jacori Garrett. At a time when most teenagers are beginning their journey towards figuring out what path they will travel down, Jacori is shouldering the burden of financially supporting his family (working two jobs in the process) while also pursuing his Associate's Degree as a member of the Walgreens "Beyond the Diploma" program.
An average day for Jacori starts before 4 a.m., when he takes the bus to his first job of the day, arriving for opening by 5 a.m. Jacori works his scheduled shift for several hours before making the trek via public transit to Harold Washington College, where Walgreens' cohort participants take classes. After class, Jacori is on the move again, sometimes heading back to work for the next several hours or heading to a quiet place to get homework down. Most days, he gets home at approximately 10 p.m., but his day isn't over just yet. Jacori helps with whatever is needed at home before finally calling it a day. And he repeats it all again the next day. And the next. And the next.
If you want to learn more about Jacori's incredible story, watch the 2018 Skills for Chicagoland's Future impact video here.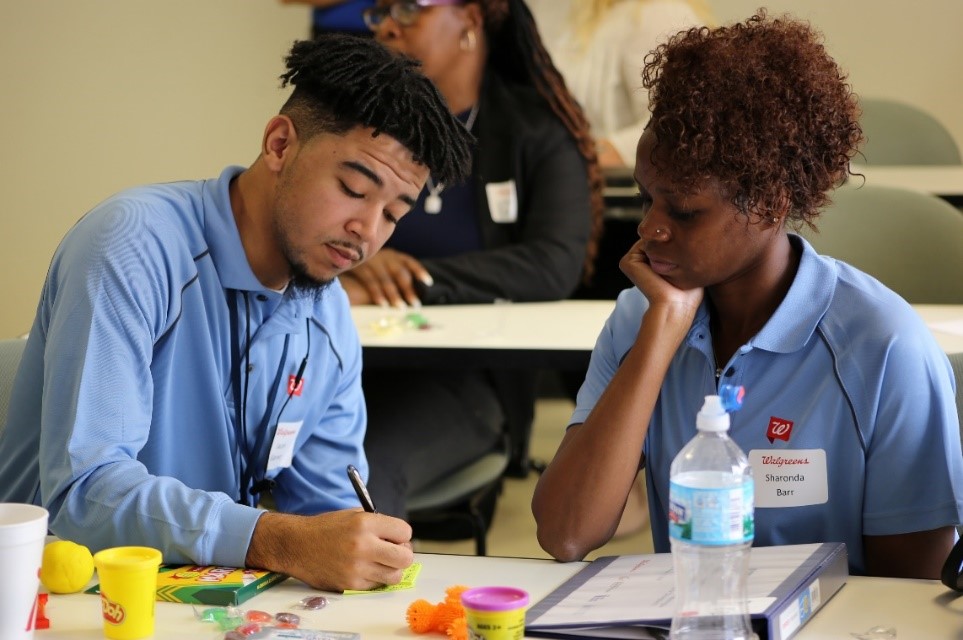 Jessica and Jacori's situations are vastly different, but they both have the same end goal. To have a chance to provide a better life for their families. And "Beyond the Diploma" gives participants a chance to do just that. Whether it's with Rush or Walgreens, or the other programs with Freedman Seating, McDonalds, Hyatt, AT&T, or CDW, the programs Skills have created with our selected partners is a step in providing a chance to change the storyline of people who just need a chance to succeed. But how do we give more people a chance to change their narrative?
According to Georgetown University's Center on Education and the Workforce, someone earning an Associate's Degree will earn 32% more in their lifetime compared to those with just a high school diploma/GED. That number grows to 74% more when a high school grad is compared to someone who a Bachelor's Degree. Education is the path to upward economic mobility.
That's where "Beyond the Diploma" comes in to play. Thanks to the partnerships with our employers we're able to provide participants a chance to improve their lives through education and stable employment. Check out the current opportunities here.