Skills Bridges Equity Gaps in Chicago's Job Market, Placing Thousands of Job Seekers from Communities Hardest Hit by Unemployment
CHICAGO – Skills for Chicagoland's Future (Skills) joined together this morning with hundreds of business leaders at its annual Employment Champions Breakfast, highlighting its work to create equitable pathways to employment for Chicagoans from communities that have experienced historic lack of job opportunities and investment.
Hosting the annual event was Skills' new President and CEO Bridget Altenburg, who joined Skills in July 2023 and will lead the organization in a new era dedicated to removing barriers to unemployment for disinvested communities in Chicago and across the country.
This year's breakfast also featured a panel of top minds exploring the current economic landscape on a national scale and its profound influence on corporate entities and the communities of Chicago, including Ralph Martire, Center for Tax and Budget Accountability Executive Director; Malaika Myers, Hyatt Hotels Corporation Chief Human Resources Officer; and Marisa Novara, Chicago Community Trust Vice President of Community Impact.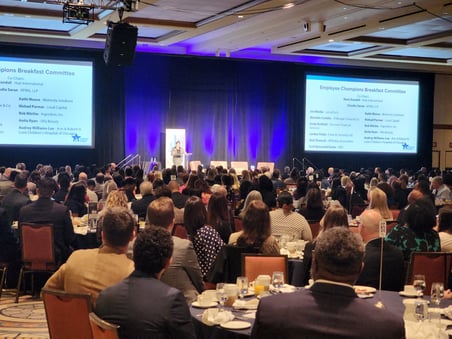 "I am excited to host my first Employment Champions Breakfast for Skills for Chicagoland's Future," Altenburg said. "Through our dedicated staff, Skills has been able to connect thousands of job seekers from neighborhoods with high unemployment to quality jobs. Every day we see the impact that a job can have, and it's our mission to continue to lift up talented workers who have been overlooked for far too long."
Founded and developed in 2012, Skills is a leading nonprofit that has flipped the traditional workforce model to address unemployment and underemployment. Skills' "jobs-first" approach connects unemployed candidates to quality jobs with our employer partners. Skills coaches, prepares and advocates for our candidates, placing nearly 12,000 people into jobs to date.
Since its founding, Skills has expanded its resources and operations to the South and West Sides of Chicago and established employer partnerships with 130 businesses in Chicago to connect traditionally overlooked job seekers to employers. Skills is also engaging in an ambitious national expansion campaign to bring its innovative workforce model to new cities across the country.
"Skills for Chicagoland's Future has been invaluable to Hyatt and an ally to the business community," said Mark Hoplamazian, Skills' Board Chair and president & CEO, Hyatt Hotels Corporation. "As a global hospitality company dedicated to creating a culture of opportunity for all, we are proud to work with Skills to open doors to new and meaningful career pathways especially for people from under-resourced communities, with the ultimate goal of building a more inclusive workforce throughout Chicago."
At its breakfast event today, Skills honored Carelon Medical Benefits Management as Champion for the Unemployed as well as Greater Englewood Community Development Corporation as Advocate for the Unemployed and Freedman Seating Company as Champion for Community Impact.
For more information, visit Skills' website.