We are pleased to have the Hyatt Hotels Foundation as a Champion Sponsor for our Annual Employment Champions Breakfast, supporting Skills' critical work to help advance equity in the workplace by providing job opportunities for the unemployed and underemployed.
Hyatt Hotels Foundation proudly supports organizations that strengthen communities, with a particular focus on the city's south and west neighborhoods. Headquartered in Chicago, the Hyatt Hotels Foundation focuses on creating a more vibrant and thriving city. The Foundation also allocates funds to support other global causes such as human trafficking, disaster relief and response, arts and culture, education, health and under-resourced youth and opportunity youth.
Since the first Hyatt Hotel opened its doors in 1957, Hyatt has worked to embody its purpose – to care for people so they can be their best. This includes creating opportunities for Hyatt colleagues at all levels to grow in their careers, invest in their communities, and prioritize diversity, equity, and inclusion.
Hyatt brings its purpose of care to life through World of Care. World of Care is Hyatt's engine to open doors to new employment opportunities through programs such as RiseHY, their commitment to hiring 10,000 Opportunity Youth by 2025, Change Starts Here, Hyatt's actionable DE&I initiatives to foster a more inclusive, equitable and welcoming world, and Hyatt's plans towards reaching its 2030 environmental goals. Most notably, this past year, Hyatt Hotels has doubled the representation of women and people of color groups, respectively, in key leadership roles (including doubling the representation of Black leaders), designated a group of Hyatt-owned hotels to transition to 100% renewable electricity, and offered 8,600 courses to colleagues, with DE&I being among the most popular topics.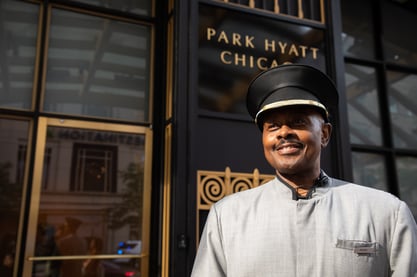 Among Hyatt's initiatives that focus on caring for people is its partnership with Skills for Chicagoland's Future. Hyatt has collaborated with Skills for the past five years and placed numerous jobseekers in various roles across Chicagoland. Both Hyatt and Skills' commitment to equitable career development made this collaboration intuitive. Additionally, Hyatt President & CEO, Mark Hoplamazian, and Chief Human Resources Officer, Malaika Myers, are members of the Skills Board, with Hoplamazian service as chair since 2018.
With this intentional focus on caring for people, it's no wonder Hyatt Hotels remains a wonderful place to work. In the past couple few years, Hyatt has been recognized as a 2022 World's Best Employer and 2023 America's Best Large Employer among other recognitions.
We are proud to work alongside Hyatt Hotels Foundation and Hyatt hotels to help advance equity in the workplace. Their loyalty and dedication to getting Chicagoans back to work is admirable. We look forward to having them at our Annual Employment Champions Breakfast on October 4th.
Still looking to attend our Employment Champions Breakfast and support Skills' ability to work with organizations like Hyatt? There's still time to register! Support Skills now by purchasing tickets today.