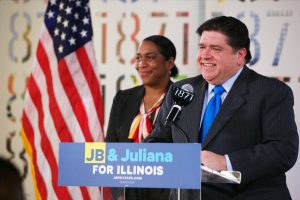 CHICAGO – December 10, 2018 – Today, Governor-elect JB Pritzker and Lieutenant Governor-elect Juliana Stratton announced that Skills for Chicagoland's Future CEO Marie Trzupek Lynch will join the transition's Job Creation and Economic Opportunity Committee. The committee is one of several working groups that will advise and guide the incoming administration.
Lynch joins a diverse group of nearly 40 economic and business experts co-chaired by Omar Duque, president of the Hispanic Information Technology Executive Council; Laura Frerichs, director of the University of Illinois Research Park; Dr. Suzet M. McKinney, CEO and executive director of the Illinois Medical District and Bob Reiter, president of the Chicago Federation of Labor.
Skills for Chicagoland's Future (Skills) is a public-private partnership that meets the hiring needs of employers by offering innovative solutions to place qualified, unemployed and underemployed candidates into available positions. Since its founding in 2012, Skills has placed more than 5,800 Chicago-area job seekers into positions with more than 70 employers.
"I am honored to join Governor-elect Pritzker's transition team and contribute my experience working with employers, government and community partners to ensure that all job seekers can access economic opportunity," said Lynch. "Illinois has a strong and uniquely civic-minded business community, as well as a skilled and vibrant workforce. I look forward to working with the committee on innovative ways to connect these two assets and create prosperity for all Illinoisans."
Click here for more on the Job Creation and Economic Opportunity Committee.