We are pleased to have Motorola Solutions, Inc. as a Champion Sponsor for our Annual Employment Champions Breakfast.
Motorola Solutions is a global leader in public safety and enterprise security, with a history of innovation that dates back nearly a century. Their work makes a difference in the critical moments that shape lives, businesses and the world, but their contributions don't end there.
The company's charitable and philanthropic arm, the Motorola Solutions Foundation, has donated more than $100 million in the last 10 years in support of organizations that create safer cities and equitable, thriving communities. Most of the Foundation's giving is done through its annual grants program, which focuses on first responder programs and technology and engineering education.
We are incredibly grateful to be a Motorola Solutions Foundation grant partner. Since 2013, the Foundation has awarded Skills nearly $600,000 in grants to strengthen career paths in IT and tech-related fields and increase opportunities for job seekers.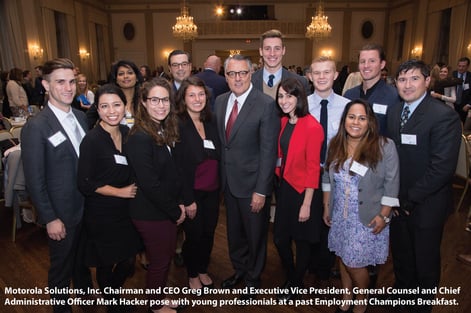 The Motorola Solutions executive team has also been instrumental in supporting Skills' mission. We would like to thank Chairman and CEO Greg Brown for his service on the Skills for Chicagoland's Future Board of Directors and Mark Hacker, Executive Vice President, General Counsel and Chief Administrative Officer, who is currently serving on the board.
We are proud and incredibly grateful to Motorola Solutions for their loyalty and dedication to getting Chicago back to work. We look forward to recognizing them at our Annual Employment Champions Breakfast which takes place on Tuesday, October 4th at the Hyatt Regency Chicago.