We're thrilled to announce plans for a physical presence on Chicago's South Side to better serve neighborhoods experiencing disparities in employment and economic inclusion, set to open in 2020.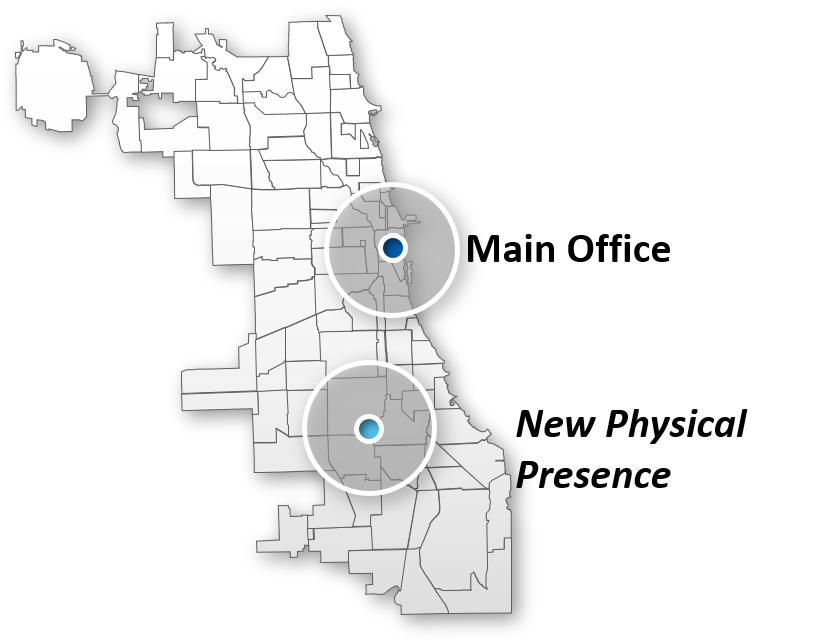 Our new South Side physical presence will mark Skills' first Chicago-based expansion outside of our Loop location. Skills facilitators will work in the community to source, screen and refer South Side candidates to Chicago employers.
"This new physical presence is a symbol of our ongoing commitment to all of Chicago's neighborhoods.ˮ – Marie Trzupek Lynch, founding President and CEO
The South Side expansion will allow Skills to help even more local residents access employments opportunities, and it serves as the first step in Skills' long-term plan for additional expansion sites in Chicago neighborhoods.

Thank you also to the individual donors who have supported
Skills Neighborhood Link
$2,500 – $5,000
$1,000 – $2,499
$500 – $999
$250 – $499
Brian and Mary Faith Cook
Joseph Blasko
Jeffrey Bilek
Elizabeth Bauer
Jennifer Fortner
William Broderick
Margaret Egan
Frank Burke
Mark Hoplamazian
Rich Floersch
Peggy Hardek
Paulette Dodson
Mark and Pam Kendall
John Nimesheim
Seema Kathuria
Laura Dunn
Rachel Kohler
Sean Garrett
Marie Trzupek Lynch
Jon Glick
Paul Stinsa
Larry Goodman
Anna Witler
Corey Haynes
Brian Montgomery
Malaika Myers
Darline Scelzo
Zachary Schrantz
Michael Scimo
$100 – $249
Allison Angeloni
Glassdoor
Samir Mayekar
Sandra Pak Knox
Kevin Chadwell
Vincent Hale
Rob McCloskey
George Poulos
Nancy Daas
James Jenkins
Jonna Mcgrath
Kirsten Powers
Sara DeCoste
Susie Kutansky
Sherrie Medina
Juan Salgado
Cherita Ellens
Omar Lateef
Carrie Meyer
Peter & Patti Tobin
Michael Fox
Kirk Limacher
ARCO Murray
Alita Tucker
Michael Furey
Barbara Lumpkin
Osayande Myhand
Jack Warner
Sean Garrett
Kelly Manthey
Kristin Oliver
Susan Wilson
Andrea Zopp
Under $100
Alexa Adrian
Melissa Childers
Jim Ipema
Anne Savage
Orlando Aguirre
Marna Cielak
Dan Kirk
Evan Sharp
Mike Altier
Sean Clifford
Michelle Kuranty
Tyler Simon
Donna Anhalt-Straka
Quinn Cosgrove
Donald Laackman
Chris Sinito
Raheela Anwar
Bruce Davis
Allyson Laackman
Emily Smyers
Melissa Aufmann
Charlie Jo DeMay
Obie Leflore
Rob Sorum
juanita Avila
Raven DeVaughn
Theo Marshall
Jeff Stachon
Daniel Banfield
Bret Diskin
Kate McAdams
Josh Strickland
Myrna Bell
Max Ebacher
Martha McAvoy
Lashonn Swain
Jennifer Bentley
Janelle Elmore-Perkins
Deena McKay
Mike Temkin
Thomas Bentley
Rob Ferone
Amanda Mellens
Takeisha Thompson
Alyssa Berman-Cutler
Bonnie Fong
Ann Margaret Monoscalco
Pilar Trejo
Marianna Berzins
Eddie French
Megan Neacy
Megan Valdez
Mary Bilbrey
Liz Geraldi
Peter Newell
Ann Vogl
Christine Binotti
Billy Glunz
Ngoc Nguyen
Beth Vorwaller
Sadie Bjornstad
Whitney Golatt
Katie O'Donnell
Constantine Vutsas
Sheila Bounds
Kevin Golden
Chanelle Palmer
Michael Walsh
Amy Boysen
Simone Gourguechon
Dan Petrousek
John Wanek
Dave Brost
Nancy Griffin
Steven Phillips
Ewa Weidner
Maureen Callen
Mike Hanna
Denise Poole
Cenovia Witherspoon
Jay Casady
Anum Hassan
Lesli Pora
Edyta Wojtulewicz
Chloe Caston-Sanders
Marji Heas
Amy Rakoczy
Peter Wolniak
Daniel Cervantes
Andrea Helms
Nathan Robinson
Philip Yob
Daniel Chavez
Elizabeth Hofstetter
Dave Rodriguez
Ron Zinnerman
Shammara Howell
Amy Santi