Unemployment rates among youth and young adults are at crisis levels. This is an issue nationally, and here in Chicago. In July of 2023, the national unemployment rate was 8% for individuals aged 16-24, while the adult unemployment rate was 2.8%. The UIC Great Cities Institute found that the jobless and out-of-school rate in Chicago for Black 20-24-year-olds was 39.2%, almost double the pre-pandemic level of 20.2%.
On September 6, 2023, Skills convened stakeholders representing government, corporations, community-based organizations, and philanthropy to discuss this crisis and possible solutions.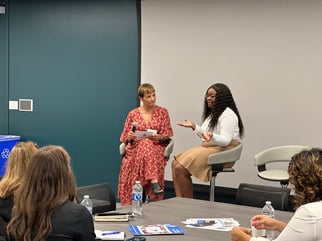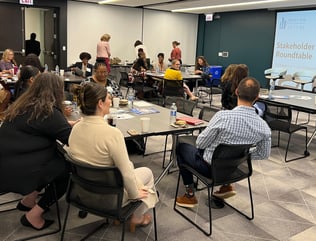 Key Takeaways:
Be curious, not furious: We all have a role to play to understand barriers faced by youth that are contributing to the outrageously high young adult unemployment rate. Instead of punishing job seekers for their education level or soft skills that may appear to fall short of expectations, we need to ask questions and offer help.
Employers have a role to play: Participants at the roundtable discussion shared what employers can do to help break down barriers to jobs and careers. Examples include reviewing job descriptions and requirements and understanding what is really needed for a job, intentionally focusing on hiring a diverse workforce, partnerships with community-based workforce organizations, and creating a culture of inclusion.
Technology makes hiring less human: Applicant Tracking systems tend to disqualify candidates instead of identifying transferrable skills that could bring new perspectives and value to teams.
Service providers need resources: To develop their own staffs to ensure their work with youth and young adults is seen through an equity lens, maintain capacity to provide support for youth job seekers, who need it the most, and to have room to collaborate with peer organizations.
Would you hire someone with a pink resume?
At the roundtable, guests heard from Amiracle, a 2023 Aon Apprenticeship Program participant and an International Youth Foundation, Youth Opportunity Ambassador.
Amiracle had worked in retail and hospitality jobs to support her two young children as a single mother but faced barriers to advancement because of her age and educational attainment. When she came to Skills, it was for a job where the employer required an Associate's Degree, which she didn't have. Skills Recruiter DeAnna Williams didn't let her journey end there. She referred Amiracle to the Aon Apprenticeship program, which would not only connect her to a job but pay for her to get a degree while she worked. DeAnna helped her with her resume, prepared her for the interview, and coached her throughout the process. "Her resume was pink," DeAnna shared at the roundtable. Amiracle laughed and defended her choice saying she got advice to make her resume stand out from others. "My mom and grandma had only ever worked in retail and restaurants, so I didn't know any different!" She said DeAnna's guidance and ability to provide insights into the hiring process and the program gave her the confidence to know she would be ready for any opportunity she pursued. Amiracle's story reminds us that too often a hiring processes can overlook exceptional talent.