We are pleased to have Ulta Beauty as an Ambassador Sponsor for our Annual Employment Champions Breakfast.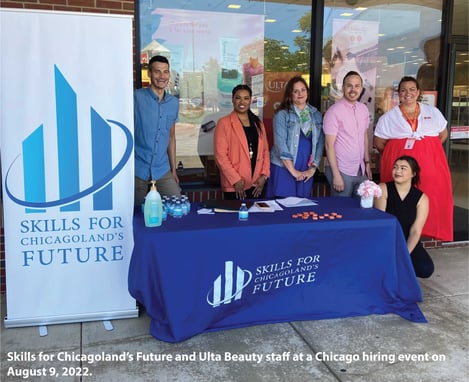 Founded in 1990, Ulta Beauty is more than just the largest specialty beauty retailer in the country. With over 1,300 retail locations and more than 40,000 associates (91% of whom are women) across the nation, they believe in embracing the unique beauty of each person. Their focus on diversity and inclusion landed them on Forbes lists for Best Employers for Diversity and Best Employers for Women in 2019, 2020, and 2021.
In 2016, they established the Ulta Beauty Charitable Foundation (UBCF), which has donated more than $27 million to support women and their families. They continue to broaden their support to include organizations fighting for racial equality and that serve BIPOC and LGBTQ+ communities. For the first time in its history, the UBCF will donate $2 million in 2022 to BIPOC and LGBTQ+-focused nonprofits, while also offering volunteer and educational opportunities for associates.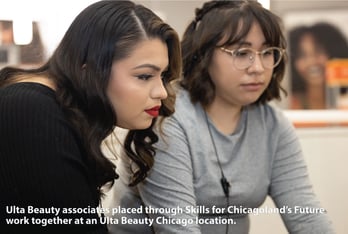 Ulta Beauty's corporate headquarters is in the Chicagoland area, so partnering with organizations that support the Chicagoland area is one of their top priorities. Since the inception of the Skills + Ulta partnership in 2014, they have hired close to 300 job seekers across Chicagoland in roles such as Beauty Advisor, Brow Expert, Task Associate, Hair Stylist, and many more.
Additionally, the Ulta Beauty executive team has been tremendous supporters of Skills' work. We would like to express our appreciation to the former and current executives who have served on the Skills for Chicagoland's Future Board of Directors: former Chief Human Resources Officer (CHRO) Jeff Childs and current CHRO Anita Ryan.
We are proud and incredibly grateful for Ulta Beauty for their loyalty and dedication to getting Chicago back to work. We look forward to a continued partnership and are excited to have them at our Annual Employment Champions Breakfast which takes place on October 4th at the Hyatt Regency Chicago.