Founded in 1997 on the 126th anniversary of the Great Chicago Fire, the Chicago Fire Football Club is an American professional soccer franchise. Formed as one of the league's first expansion teams, the Fire kicked off its 25th season in Major League Soccer in 2022.
This year, we are honored to have the Chicago Fire Foundation, the charitable arm of the Chicago Fire Major League Soccer Team, as a Champion Sponsor for our Annual Employment Champions Breakfast.
Since the team's inception, the Chicago Fire Foundation has made significant contributions to enhance the lives of hundreds of thousands of youths throughout Chicagoland, putting millions of dollars back into the community.
Since 2013, the P.L.A.Y.S. (Participate, Learn, Achieve, Youth, Soccer) Program been instrumental in leading the Fire's philanthropic efforts. The program allows boys and girls within inner-city Chicago Public Schools to participate in curriculum-based soccer activities and learn social and emotional learning (SEL) traits that can then be applied to their academics. Since its launch, the program has provided more than 250,000 hours of soccer played and over 5,000 opportunities for boys and girls in grades 3-5, with a focus on schools on Chicago's south and west sides.
Additionally, the Chicago Fire and the Chicago Fire Foundation collaborated with the U.S. Soccer Foundation to build 50 mini pitches by 2021 as part of their national campaign, It's Everyone's Game. Within 4 years, they built recreational turf fields in underserved Chicago neighborhoods, reaching more than 21,500 youth participants. The campaign pledged to reach one million children annually and build 1,000 mini pitches by 2026.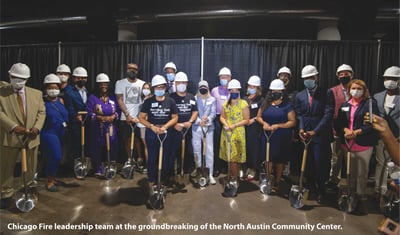 In their latest project, the Fire and Foundation have teamed up with local partners to break ground on the first of its kind professional-level facility for sports, education, and wellness. By this fall, a 10-acre campus in Chicago's North Austin community will provide kids access to sports and other programming. The North Austin Community Center will provide children with 20 hours of free soccer programming per week including clinics, camps, mentorship opportunities, and more.
We are proud and incredibly grateful for the Chicago Fire Foundation for their loyalty and dedication to getting Chicago back to work. We look forward to having them at our Annual Employment Champions Breakfast which takes place on October 4th at the Hyatt Regency Chicago.