We are thrilled to have Jewel-Osco as this year's Presenting Sponsor for our Annual Employment Champions Breakfast.
Jewel-Osco has offered customers quality products coupled with exceptional customer service since 1899. Today, Jewel-Osco operates 188 stores throughout Chicagoland, Indiana, and Iowa, part of a 2,200+ store operation employing over 265,000 people nationwide.
Since 2017, we've partnered with Jewel-Osco to hire close to 1,000 job seekers throughout Chicagoland. Even during the pandemic, they continued to be one of our most active employer partners. With nearly 400 hired over the past two years, they have employed job seekers across various roles including Cashiers, Department Manager Trainees, Pharmacy Technicians, Store Manager Trainees, Warehouse Associates, and more.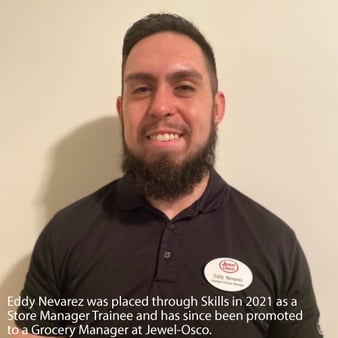 Of those job seekers, Eduardo N. has found tremendous career growth working at Jewel-Osco. Eduardo reached out to Skills shortly after the pandemic started when he was looking for full-time work and opportunities to develop his leadership skills. He was hired through Skills in 2021 as a Store Manager Trainee and has since been promoted to Grocery Manager.
"Everyone knows Jewel-Osco is the local place to get groceries, and it seemed like the place for me," Eduardo said. "Every store is different, and it is what you make it. I let my team know that we're all here to help each other, and no one has to do it on their own. I was nervous to be a manager, but Skills let me know that I would train to be in this role, and I'm liking it a lot."
In addition to career development opportunities, Jewel-Osco provides their employees the chance to connect, participate in local events, and give back to the community through their Associate Resource Groups (ARGs). These groups allow employees with a shared interest to focus on initiatives surrounding diversity, equity, and inclusion. The ARGs include: Asian di Network, Black Inclusive Network of Diversity (B.I.N.D.), Diversity, Equity, and Inclusion (D.E.I.), Jewel-Osco Pride Alliance, and Women's Inspiration & Inclusion Network (WIIN).
Throughout the month of August, we were honored to have Jewel-Osco support Skills through their Register Round-Up Campaign at 180 Jewel-Osco locations across Chicago and the surrounding suburbs! Anyone who shopped at Jewel-Osco in August had the opportunity to add $1, $3, $5, etc. to their purchase at checkout. All funds contributed to our mission of creating economic opportunity for Chicago's unemployed and underemployed.
We are proud and incredibly grateful for Jewel-Osco for their loyalty and dedication to getting Chicago back to work. We look forward to a continued partnership and are excited to have them as the presenting sponsor for our Annual Employment Champions Breakfast which takes place on October 4th at the Hyatt Regency Chicago.