We are excited to have Jewel-Osco as one of this year's Presenting Sponsors at our Annual Employment Champion Breakfast. Jewel-Osco has been pivotal in Skills for Chicagoland's Future's ability to reach our mission of creating solutions to get the unemployed and underemployed back to work.
Since its inception in 1899, Jewel-Osco has been committed to providing quality products coupled with exceptional customer service. The company operates 188 stores throughout the Chicagoland area, employing 31,000+ associates.
Jewel-Osco ensures an atmosphere that is dynamic, inclusive, and fosters growth for their employees. The partnership with Skills began in 2017, and Jewel-Osco has employed over 1,000 individuals in all store level departments, the Store Manager Trainee Program, and the Melrose Park Distribution Center.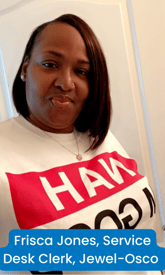 Among those employed at Jewel-Osco is Frisca Jones. Frisca had been in the food industry for years but decided she wanted to try something different and was happy to hear back after applying for a Jewel-Osco position through Skills. Frisca says the company's values aligned with her values, and she was happy to learn that her new job at Jewel-Osco would allow for professional growth. Additionally, Frisca says she is pleased to be in such a positive environment at Jewel-Osco. "I've worked at three different stores, and I love all three. Each store taught me something different. Once I get here in the morning, I'm a totally different person when I walk in the door. People are talking to you saying I'm glad you're here. It makes you happy you're there too."
The positive environment includes the Jewel-Osco Associate Resource Groups (ARGs). The company created the ARGs several years ago and has an active associate presence within all six ARGs. The groups allow employees with shared interests to come together to support one another professionally through mentorship and to get involved in the
community by volunteering. Moreover, Jewel-Osco offers Diversity, Equity, Inclusion & Belonging (DEI&B) support through the ARGs, holding forums that are designed to heighten awareness surrounding biases and provide employees with the tools and resources that are needed to help foster an inclusive work environment.
As the leading grocery retailer in the Chicagoland area, Jewel-Osco works within the local communities through Employee Service Days, the Jewel-Osco Foundation, and the Nourishing Neighbors initiative. Last year the company donated millions of pounds of food to area food banks and monetarily supported hundreds of local non-profits.
Skills is incredibly grateful to have Jewel-Osco as a partner and for their commitment to giving back to the communities in which they serve. We look forward to continuing our partnership with them and we are excited to have them as a Presenting Sponsor at our Annual Employment Champions Breakfast.
Still looking to attend our Employment Champions Breakfast and support our ability to work with organizations like Jewel-Osco? There's still time to register! Support Skills now by purchasing tickets today.