We are pleased to have Dot Foods, Inc. as an Ambassador Sponsor for our Annual Employment Champions Breakfast.
Founded in 1960, Dot Foods is the largest food industry redistributor in North America. What started as dream for founder Robert Tracy to make affordable products more accessible, has evolved into a business that has kept family at the heart of their culture for over 60 years. Today, Dot Foods operates 12 distribution centers throughout the United States and ranks #59 on Forbes' list of America's Largest Private Companies for 2021.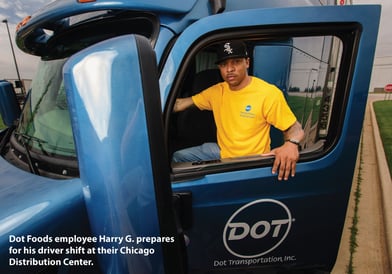 We are honored to partner with Dot Foods as they continue to grow. Since the opening of their Chicago Distribution Center in University Park, they have grown from 150 employees to nearly 350 employees. And since the Skills + Dot Foods partnership formed in 2021, we have placed a number of candidates in Material Handler and Student Truck Driver roles at their Chicago location.
In addition to investing in their employees and business growth, Dot Foods has made giving back to their local communities a longstanding mission. Over the past five years, the Chicago Distribution Center has donated more than $1.2 million to area organizations, including local food pantries, schools, and health and welfare programs.
We are proud and incredibly grateful for Dot Foods for their loyalty and dedication to getting Chicago back to work. We look forward to having them at our Annual Employment Champions Breakfast which takes place on October 4th at the Hyatt Regency Chicago.